EAT - well-balanced & regional cuisine in the PLETZER resorts



Regional ingredients full of goodness and a selection of meals that tempt you to enjoy.
Along with exercise and rest, nutrition is the third pillar of our Move & Relax philosophy. Our specifically devised Move & Relax meals from our Energy cuisine have been created by highly trained and experienced chefs and support both body and mind, to ensure you are fit for the day ahead.
Healthy indulgence of the utmost quality
Whether it is Das Hopfgarten Familotel Tirol, Das Seepark Wörthersee Resort, Das Hohe Salve Sportresort, Das Walchsee Sportresort, Das Bayrischzell Familotel Oberbayern – we devise dishes for health and beauty which are conducive to regeneration and vitality.
Whether it is a relaxing start to the day with our buffet breakfast, enjoying a restorative lunch in our restaurants, or over an extended evening meal, our aim is provide you with the basis to enjoy a longer, healthier life with our culinary highlights.
To do so we partly draw upon our tried and proven nutrition concepts:
Clean Eating
Low Carb
Wholefood cuisine
Organic ingredients
Sugar-free food
Ingredients selected according to the seasons
Nourishing meals & food that is enjoyable
Balance is to the fore in our Move & Relax philosophy. Health is the basis for a balanced lifestyle. This is fundamentally attributed to the three pillars we embrace in our Move & Relax philosophy:
Exercise
Regeneration
Nourishment
Move & Relax as a holistic philosophy
- Since nourishment can affect so much. –
Energy cuisine ought to promote a healthy, balanced lifestyle.
Energy cuisine in the PLETZER Resorts defines the third pillar, representing a better, healthier life.
Energy cuisine strengthens our immune system, replenishes our energy stores for greater strength & endurance in daily life and for sport.
Energy cuisine uses high-quality proteins, healthy fats and expedient carbohydrates.
Energy cuisine is rich in nutrients.
Energy cuisine renounces unhealthy fats, high-glycaemic, nutrient-poor ingredients.
Energy cuisine tastes delicious, doesn't make you tired, is visually appealing and enhances individual well-being.
Energy cuisine is the main product and is à la carte, providing an alternative for every active, cognisant and motivated guest.
At PLETZER Resorts we want to fulfil our guests' needs on a holistic level – our Move & Relax philosophy is oriented to that too – and this includes our Energy cuisine. For that reason we prepare the finest meals in our kitchens, which form the basis for a healthy and a longer life. Our focus is on finding an optimum and expedient combination of exercise, relaxation and the right nutrition for every guest.
In nutrition Move & Relax is about:
no white flour
no palm fat
pure oils
no preservatives
no colourings
less refined sugar
fewer high glycaemic products
expedient, good-quality carbohydrates that keep you sated for longer and provide a great deal of energy
plenty of minerals
foods that are beneficial for the digestive system
mostly organic ingredients
seasonal goods – to assure excellent quality
"The route to health is through your stomach"
What can balanced nutrition achieve?
To ensure your own well-being, we combine sports and nutritional expertise in all the PLETZER Resorts – providing a bespoke and individual EAT concept. Whether it is a snack after a training session in the hotel pool, or a pleasure-filled, 3-course evening menu with your partner – choice produce is found in our kitchens and on your plate.
According to your requirements and preferences, during your stay in the PLETZER Resorts you have the opportunity to experience the concept of a balanced lifestyle outside our restaurants too. For instance:
with bioelectrical impedance analysis
with spiroergometry
during one of our wellness treatments
during a cosmetics treatment
during an excursion into the picturesque surroundings
Whether it is during sport, while relaxing, or with food – the objective is for our guests to learn to pay greater attention to themselves. After all, a great deal of demand is placed upon body and mind – both the professional realm, as well as in your private life. With our Move & Relax philosophy we want to show how to achieve the right balance in intensity and the amount of stress experienced in everyday situations.
With the meals in our Move & Relax Energy cuisine we not only provide you with delicious foods, we want to bring balance to your personal sense of well-being.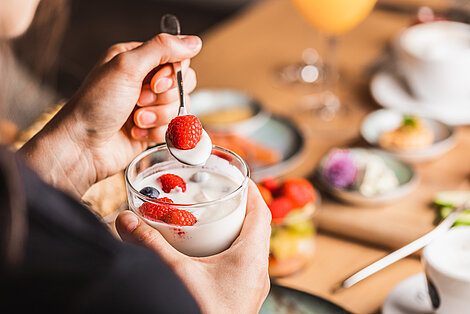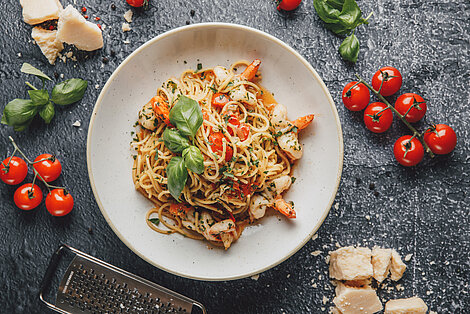 Energy cuisine & individual service in the PLETZER Resorts
Our team are also here to advise you at any time:
Nutritional advice:
Our qualified sports scientists are happy to advise you about spiroergometry and bioelectrial impedance analysis. You then learn how to nourish yourself more healthily – specifically for exercise and regeneration. Our experts in the hotels work with Sportuniversität Innsbruck and are able to implement the theoretical basics of nutrition in practice on site.
Food intolerances:
Whether our guests are vegan, or they prefer gluten-free dishes, or have other food intolerances – on request we take care of specific requirements.
Organic produce:Milk from grass-fed cows and all regional cheese products at our buffets (mornings and evenings) are organic certified.
The well-being and satisfaction of our guests is something we strive for. We always provide an alternative to Energy cuisine. The meals in our Move & Relax philosophy provide a healthy option – for all those of you who value a balanced lifestyle. Those who prefer their food to be hearty and who want to enjoy schnitzel, potatoes, sausages and the like, are of course well catered for here too!
Regional treats from Austria
We adore our homeland and the food produced here in Austria. For that reason, in the PLETZER Resorts up to 80 percent of the ingredients we offer come from Austria.
Of the 732 items in total which we use to make our meals in the hotel's own kitchens, 722 are of Austrian provenance. So we are not only providing our guests with pure delectable treats, we are also doing our bit for the environment! Thanks to short supply routes, we save emissions each and every day and thereby reduce our carbon footprint. To offer sustainable pleasure and not deprive future generations the beauty of our planet.
From breakfast to your evening meal, these are the regional treats you can look forward to during your stay in PLETZER Resorts:
Fruit: Our hotels always get their fresh fruit from Austrian company Früchte Maier GmbH & Co KG.
Bread, bread rolls & pastries: Our Resorts always source their bakery items from within their respective towns.

Meats & sausages: All meats and sausages that we use and serve come from Austria too.
The animals are born in Austria, have been reared here and are slaughtered here.

Dairy produce: Our dairy produce – including cheeses and yoghurt – are 100% Austrian.
(Exceptions are French and Italian products such as Parmesan).
In addition, many of our products have the AMA seal of approval.
For a successful start to the day
Our breakfast
'Breakfast like a king, …': enjoy breakfast wholly in keeping with this ancient saying at PLETZER Resorts. After all, a balanced, healthy breakfast is the ideal foundation for a successful start to the day.
And at breakfast too we emphasise hearty ingredients and a balanced selection of fresh specialities. If you are a sporty guest and are looking for a challenge, or if you want to relax during your stay in our Resorts – you get to choose between the 'Mover' & the 'Relaxer' breakfast options. Enjoy whichever you like!
Wholegrain foods:
Porridge – Bircher Muesli – Oats – Spelt flakes – Ground linseeds – Sunflower seeds – Pumpkin seeds – Almond (slivers) – Cashew nuts – Hempseeds – Figs – Dates – Cranberries – Dried bananas – Coconut flakes – Move & Relax Muesli

Fruit basket:
At the buffet our guests will find various seasonal fruits.

Freshly pressed juices:
Anyone who would like to enjoy a breakfast smoothie, can gran a freshly pressed juice. A variety of fruit and vegetables are available in the region for our Move & Relax juice: apples – carrots – celery – lemons – ginger – cucumber – parsley – turmeric – linseed oil – olive oil
(the selection is geared toward the season.)
We also only use regional produce for our juices. At our buffet you will find apple juice made with apples from regional farms.

Jams: A fruity selection - 100% from Austria.

Healthy fruit yoghurt:
At our breakfast we offer you an alternative to classic fruit yoghurt – you can simply stir our home-made fruit puree into our natural yoghurt.
(This healthy fruit yoghurt contains no preservatives or sugar.)

Cheese, sausage, spreads, pastry, fresh coffee creations and much more
Our buffet breakfasts also provide gluten-free alternatives for muesli and pastries. There are milk alternatives available too, in the guise of almond, oat, rice, soya and lactose-free milk.
Displays at our buffet breakfasts provide information about our meals and the ingredients in our Energy cuisine. These are highlighted with our Move & Relax logo in green and blue.
Little labels also tell you why these ingredients are health-promoting and are ideal for supporting your immune system and your defences.
All the details about ingredients and the proportion of protein, carbohydrate, fat, kilojoules and kilo-calories is also provided.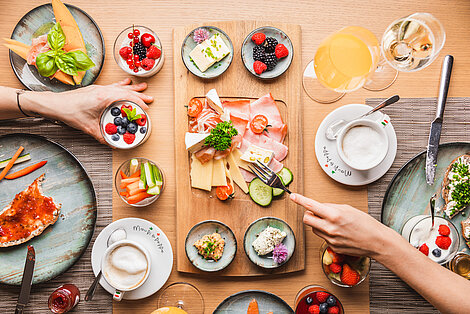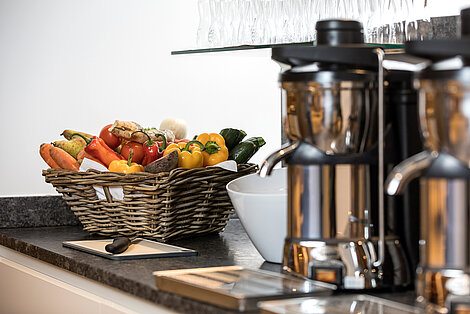 Traditional treats
Our meals for lunch & dinner
Whether it is for sporty visitors, conferences guests, families with infants or teenagers – the respective menu plan is created by our experienced head chefs. Available to chose from:
2 Soups
Salad buffet
3 mains (1 x vegetarian)

or the Move & Relax menu from our Energy cuisine concept
(highlighted with the Move & Relax check-mark in green & blue)

2 desserts from the hotel's own patisserie
Depending on the hotel, meals are then offered in buffet format, or as a menu in the Energy half-board option.
Sustainability, cuisine & delicious treats
70 % of our foods/produce is from Austrian supplier Transgourmet. This means we are always able to assure regionality and sustainable delivery.
We get produce and ingredients in various categories:
VONATUR – nature-conscious | traditional | valuable
The latest innovation in the Transgourmet own brand family pursues the highest objectives in terms of sustainability and provides palpable added value. This exceptional concept combines the demand for outstanding culinary quality, safeguarded sustainability performance, along with authentic product and producer stories.
ORGANIC 'STROHSCHWEIN' PIGSTransgourmet VONATUR Strohschwein pigs come from organic Austrian farms and are reared there with plenty of space and exercise areas. The name 'Strohschwein' is the embodiment of a key element in organic farming.
ORGANIC UPLAND PASTURE CATTLEThe company 'Sonnberg', managed by Manfred Huber, is one of the most state-of-the-art organic butchers in Austria and is located in the heart of Mühlviertler Alm in Unterweißenbach. Everything is still done under one roof here at the farm. The company specialises in processing young cattle up to 18 months old, reared with their mothers. The meat of young beef cattle has a harmonious flavour, is delicate, comparatively low fat and lovely to work with.
Premium – inspiring | exquisite | pleasure-filled
'Exquisite speciality rices from Sri Lanka and fermented pepper from Asia are just two examples of the exquisite, partly exotic, product range.
Don't just want to eat well, but want your meals to have a certain something too? Meals that inspire and provide a real experience? At the PLETZER Resorts we have devised an inspiring range for our guests that contains everything that is part and parcel of outstanding cuisine, and anything but mundane. Let us inspire you – we are surprisingly different!
Main product groups: Spices, rice, salt
Quality – high value | versatile | reliable
'Transgourmet Quality accompanies you and your guests, ensuring delicious variety throughout the day. A wide range of quality products meet practically every requirement in contemporary, communal catering, gastronomy and in the hotel sector. By auditing suppliers and choosing specific items and devising their own recipes, Transgourmet Quality meet the most stringent requirements and guarantee a level of quality that you can taste.'
Main product groups: Dairy products, cheese, syrups, sausages, meat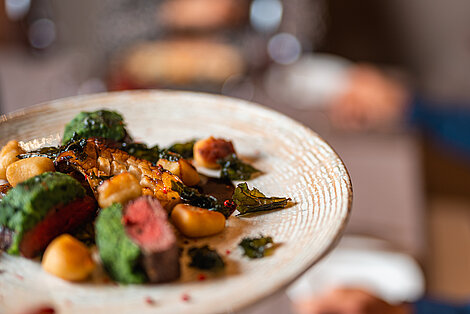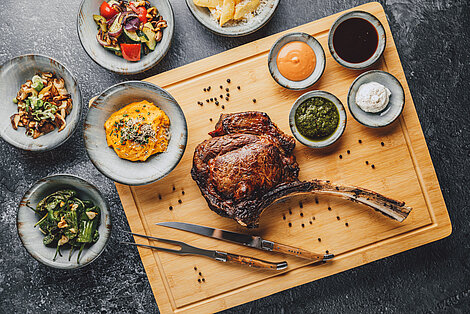 Sweet, yet healthy
Our desserts
'I can resist anything except temptation.', as said Oscar Wilde. And it is in keeping with this maxim that we magic up heavenly desserts in the hotel's own patisserie. We place a great deal of emphasis on careful production and on balanced ingredients:
100 % Austrian desserts using ingredients from the region
Fresh fruits in desserts
Fairtrade chocolate
natural ingredients – no alcohol and no artificial flavours
no preservatives
no convenience products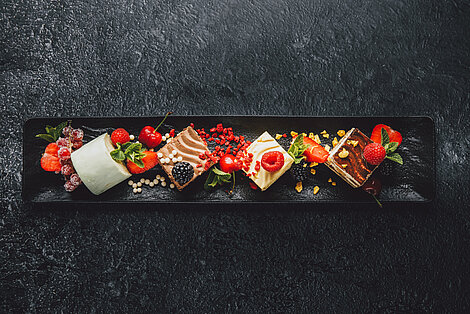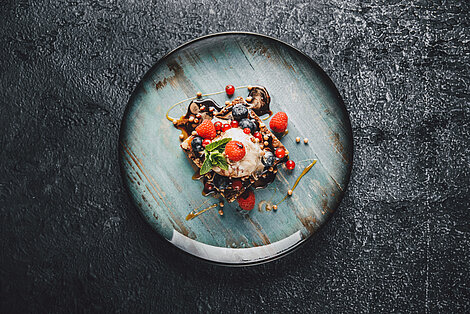 Recommendations from our Energy cuisine
Carbohydrate recommendation:
Pulses, vegetables, fruit, oats, wholegrain bread, wholegrain pasta, sourdough bread, noodles, potatoes, wild rice
Protein recommendations:
Linseeds, nuts, lentils, beans, mushrooms, chickpeas, yoghurt, oily fish, free range chicken, game, beef, cheese, eggs, milk
Fat recommendation:
the PLETZER Resort's olive oil is exclusively used for frying
Linseeds, nuts, avocado, rapeseed oil, oily fish, dark chocolate, cheese, coconut oil, eggs, butter
Cut back on - recommendation:
white sugar, white flour, margarine, palm fat, any kind of trans fats, white rice, ready-made produce, glutamate, yeast extract, salt
Salad buffet and toppings:
Along with a selection of salads, a list of nuts, seeds, sprouts and additional toppings has been compiled. This are presented accordingly in all the hotels.
Move & Relax IMMUNE BOOST ADD-ONS:
high quality salt, turmeric, lemon, cinnamon, black pepper, ginger
Meat recommendation – locally bred:
In all PLETZER Resort hotels the emphasis is not only on regionality, but on animal welfare too.
For that reason we regularly serve meat that comes from the animals reared in the hotel's own farm in Schwoich.
Among the other animals, Pustertaler Sprinzen are kept there. Only around 80 farmers in Austria rear this breed. In 2014 it was awarded cattle breed of the year. The meat from Pustertaler Schecken – as the cattle are also called due to their spotted coats ('Schecken: spottled, mottled) – stands out due to its succulence and its marbling.
In terms of processing, we always endeavour to work sustainably and don't just serve the fillet. We process as much of the animal as we can; for instance bones are used in the kitchen for soups and the like.
There is one very special recommendation for meat-lovers in Brixx:
Those of you who appreciate fine, tender speciality meats will be in the right place in Brixx. It is there that we provide our guests with the opportunity to sample all parts of a calf.
That is, all parts of the animals land on the menu, from head to toe – there is of course a certain amount of schnitzel and fillets served too. But for those of you who have ever wanted to sample the joints, Das Sportresort Hohe Salve is the place to do just that.
Move & Relax Energy cuisine for your seminar
– for a healthy break in between
Our Move & Relax philosophy – and with it, our Move & Relax Energy cuisine – also makes it into our seminar and conference rooms. With it we assist participants on their way to coming up with fresh ideas and intellectual flights of fancy by way of our balanced cuisine.
Our seminar resorts – Das Seepark, Das Hohe Salve und Das Bayrischzell – not only provide rooms kitted out with the right equipment, they also provide a bespoke service. This means you can enjoy activities during your breaks and at the same time enjoy some energy-giving snacks. It is not just the unique take on food by our hotel chefs in this Alpine region that is very special – our delicious regional treats are known far beyond Austria's borders.
Do you have any questions about our EAT concept or maybe some personal food preferences that we ought to pay attention to when you come to stay?